COPIES & CLONES
LILI LEDY - Mini Capitán Boy

At the time that interests us, Lili Ledy was the brand used by Compañía Industrial de Novedades Plásticas y Metálicas in Mexico, much like Lines Bros used the Tri-ang brand. Originally these were two brands, Lili for girls and Ledy for boys, but around this time they ended up combined together.(1) And in the 60s/70s, toys for the Mexican market apparently had to be manufactured in Mexico by law, meaning the country saw locally-produced licensed versions of many a toy line, mainly from the US. So next to toys (mainly dolls) of its own, Lily Ledy also produced licensed versions of GI Joe, Mego Super Heroes, Johnny Lightning, the Six Million Dollar Man and Bionic Woman and later Kenner's Star Wars figures, to name but a few. Many of which are sought by collectors today because of differences to the US originals.
When it comes to their Spacex copies, I have to thank Paul Woods for finding the clue. In his tireless trawls of the internet, he came across a contemporary film by Lili Ledy itself, which briefly introduces the toy series they're a part of. The film is without sound (2) and rather long, and is a combination promotional documentary and action movie. Produced in 1972 by Miguel Saldaña Duran, the 'publicista' at Lili Ledy at the time, the film briefly shows some of Lili Ledy's history as well as their sizable factories. Then what looks like Sergeant Garcia's funky brother hires three girl spies to explore the factory (four years before Charlie's Angels would be on TV) and discover the company's various toy lines. Dynámica 33, a short section tacked on after the end, shows a series called Mini Capitán Boy which includes a handful of Spacex designs (see below, starting at 0:36).
Capitán Boy was the Mexican version of Billy Blastoff, as produced by Lili Ledy. Who then decided to also do a mini version of Billy and his main accessories, and add a number of Spacex copies for good measure. Including a variation of the Tractor with twin launchers which they developed themselves. The film shows these were available on blister cards that look very inspired by Golden Astronaut cards, but each including a Mini Capitán Boy figure instead of an original golden astronaut figure. The series is also split into three themes, Base de Lanzamiento, Exploración Lunar and Patrulla Interplanetaria, but with varying numbers of toys per theme.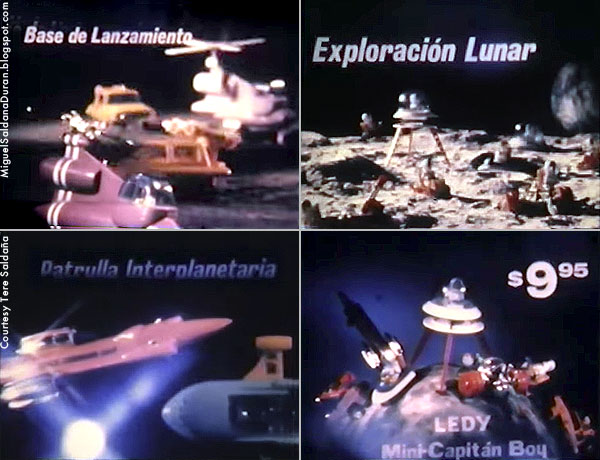 One thing that strikes me is that most of those Spacex designs shown in the film could very well be Golden Astronaut versions from the US, used for demonstration purposes. Reason I think so is that they sport stickers (the Space Command Ship stickers are well visible) and plated hubcaps (visible on the Terrain Tiger (Tractor T-5) and the helicopters). The mexican versions don't tend to have those, as is apparent from the toys shown in a 1973 catalogue. This also comes from the Saldaña archive, his daughter Tere kindly providing me with the images shown here (see also at end of page). (3)

The catalogue images show blister cards without blisters (to avoid reflections). The helicopter shown here doesn't have the double white stripe or plated hubcaps that the original Spacex/GA versions do have, as do the helicopters featured in the film. It might even be possible that the rotor isn't plated either - it looks like it's in the same pale purple as the helicopter body.
Be that as it may, the toys shown in the film and catalogue do get us the following tentative list:
| | Base de Lanzamiento |
| --- | --- |
| mod. 280 | Tractor T5 (Terrain Tiger) adapted with twin launchers |
| mod. 281 | Helicopter P3 (Security Copter) copy |
| | Tractor T5 (Terrain Tiger) copy |
| | Exploración Lunar |
| | Prospector (Moon Explorer) copy |
| | Patrol Cricket P1 copy |
| mod. 284 | Mini Billy Blastoff Space Saucer & Tower |
| mod. 285 | Mini Billy Blastoff Space Car & Tractor |
| mod. 286 | Mini Billy Blastoff Lunar Crawler & Grabber |
| | Patrulla Interplanetaria |
| | Space Patrol (Command Ship) copy |
| | Nuclear Freighter copy |
| | De Luxe |
| mod. 289 | Full set of Mini Billy Blastoff toys |
The list does have one more toy than would neatly fit into a number sequence of 280-288, closing off with the larger blister card nr 289. The spread of blister cards shown in the film (see under Packaging below) does not include the rocket-launching tractor, so would appear to be one toy short. Or perhaps the 'straight' copy of the tractor was never made, and then the number of cards shown in the film and the number of gaps in the listed numbers would both work out.
To close off, here's a display at the MUJAM Toy Museum in Mexico City, which shows both the original and mini versions of Capitán Boy, and so gives an idea of their relative sizes. The boxes are all from the large-sized series. (4)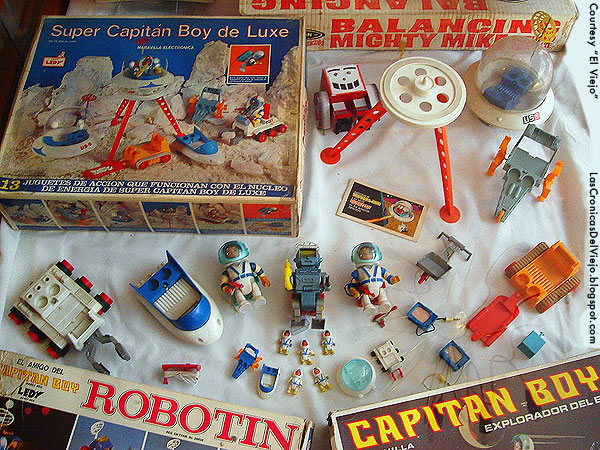 Click on images to see details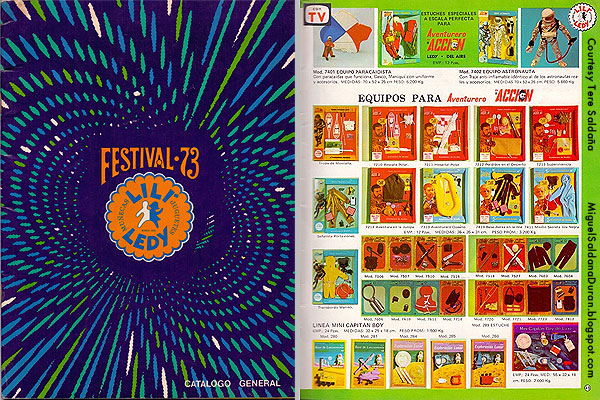 The 1973 Lili Ledy Festival catalogue, cover and p49 which has the few Mini Capitán Boy images at the end of a page otherwise devoted to Aventurero Acción sets
(their licensed version of Gi Joe).
---
1: Spanish Wikipedia has a bit more about the company, readable enough in translation (open in new windows). Though note that the Spanish word 'niños' both means 'boys' and 'children' in general (girls are 'niñas'), where Google has used the general meaning - the Ledy brand was only used for boys' toys. back to text.
2: As is explained in the comments on YouTube, this is the original edit of the film that was subsequently combined with the sound track (in Los Angeles, Ca) to produce final copies for distribution. The film's producer, Miguel Saldaña Duran, took the soundless original home for his own archive. The film is on YouTube in seven parts, the first one here and the others listed in the suggestions (opens in new window). back to text.
3: Tere Saldaña has a blog commemorating her father that also shows more pages from this catalogue. (opens in new window). back to text.
4: Photo courtesy of "El Viejo" Edgardo López Mañón who wrote about the museum on his blog. The MUJAM museum also has a website. (open in new windows). back to text.